Wascoe Siding
Railway society marks 50 years at Wascoe Siding
Blue Mountains Railway Society is celebrating its 50th birthday at Wascoe Siding in Blaxland this Sunday (October 5).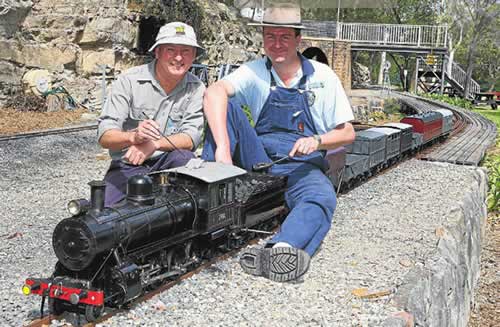 All aboard! Blue Mountains Railway Society committee member Craig Hill (left) with John Tulloch from the Sydney Live Steam Locomotive Society with a model of a NSW Z29 Class Locomotive from the early 1900s for the upcoming 50 year celebrations of the Blue Mountains Railway Society. Photo: Gary Warrick.


The well-known miniature railway will offer rides from 1Oam-4pm with every 50th ride free. The society was established in 1964 by John Green at a disused rail- way cutting that was once the site of the main western railway line between the original Glenbrook Station — then named Wascoe Siding — and Blaxland originally named Wascoe's Platform between 1913 and 1935.

"This land had become a dump and a wrecking yard and when purchased the society eventually cleared the dump and removed all the remaining car bodies to establish a miniature railway," said society committee member Craig Hill,

"An initial simple loop developed into the present extensive double track layout with tunnel, viaduct, and locomotive facility over several decades as a result of lots of hard work by the members.

"Our name of Wascoe Siding commemorates the early name of Glenbrook, while the railway locality of Blaxland Junction is perpetuated by the name on our signal box."

Entry is free. Train rides cost S2 per person.



Courtesy: The Blue Mountains Gazette, Wednesday, 1 October, 2014